Christmas is just around the corner and doesn't miss these decorations stuff to make your event awesome. Convert your house into your winter wonderland by applying these amazing Christmas decorations. Turn your home into a winter wonderland by adding white accent pieces to your holiday décor. Start by hanging oversized snowflakes, and building up the table with tall candlesticks. For the mantel, hang a garland made with olive branches. Bannisters can be tricky to decorate. For a light, airy, and cheerful look, try stringing red and white paper bells together with fishing line
1. Snowball Wreath: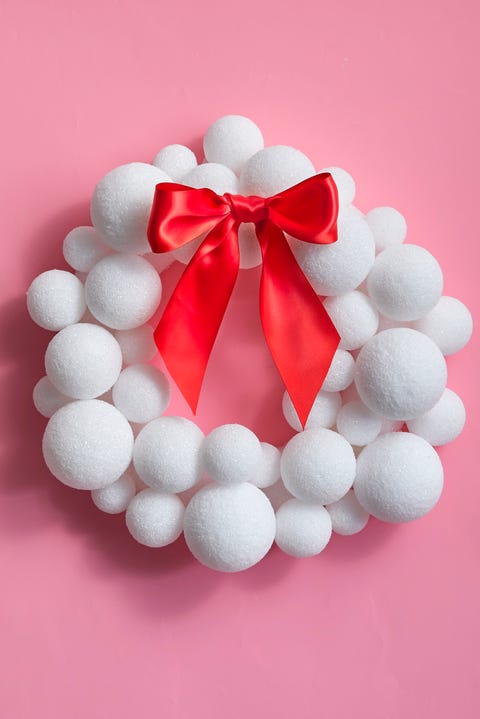 Attach mixed-sized styrofoam balls onto a wreath form using hot glue, overlapping any gaps. Once the glue is dry, attach a bow using hot glue. You can hang it up using a ribbon or wire.
2. Use Special Wrapping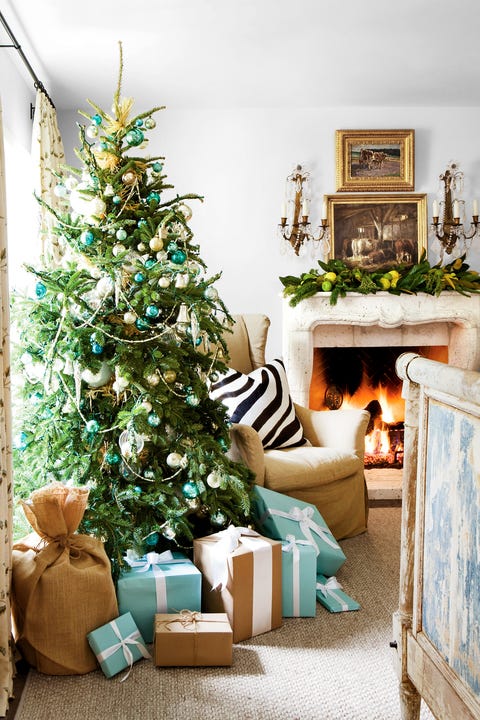 Coordinate your gift wrapping to compliment the colour scheme in your living room. Use the same techniques for your ornaments for a cohesive whole.
3. Christmas Tree Yarn Gift Topper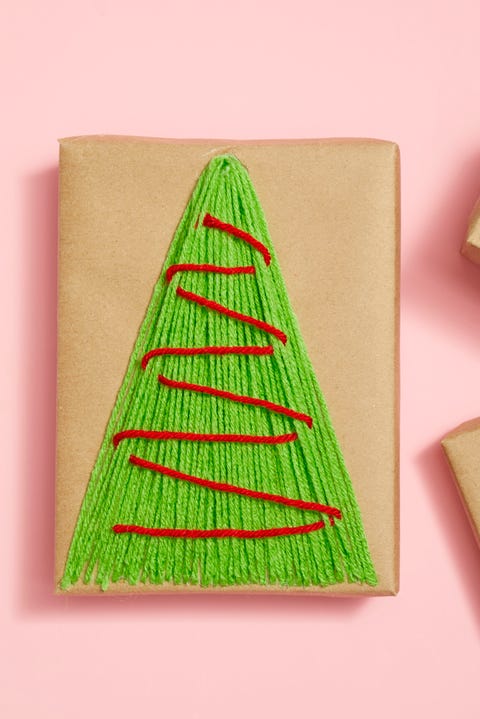 Jazz up a rectangular shaped box wrapped in kraft paper with some green and red yarn. Take a strand of green yarn and put a dot of hot glue on the top centre of the box and stick the start of the yarn down. Make another dot of hot glue on the bottom right corner and continue the string of yarn down and stick the yarn down and cut. Repeat until the yarn makes a tree shape and is as full as you would like. Then cut out a length of red yarn and feed it through the green strands to look like a garland.
4. Use A Ladder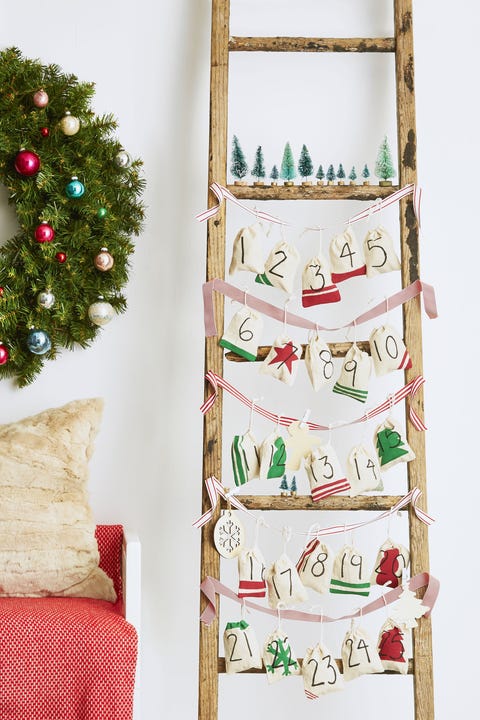 Instead of opening a flimsy cardboard box, hang up a DIY Advent calendar on a ladder or the tree. Decorated muslin craft bags conceal treats, toys, and messages from Santa—and you can fill them again next year, too.
5. Garland Card Holder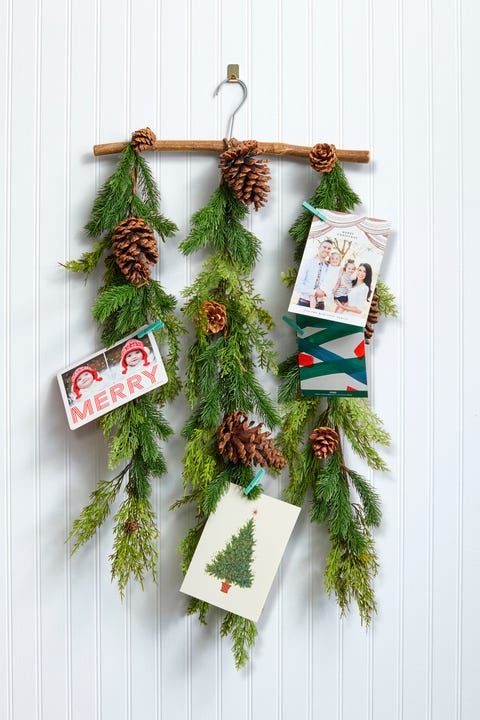 This is a great way to display all of the Christmas cards you get. Cut 3 pieces of garland to desired length (we used a longer one in the centre). Wrap the top of each garland around a wooden hanger, securing with hot glue and let it dry. Hang it up on the wall and use clothespins to secure the cards.
6. Layer, Layer, Layer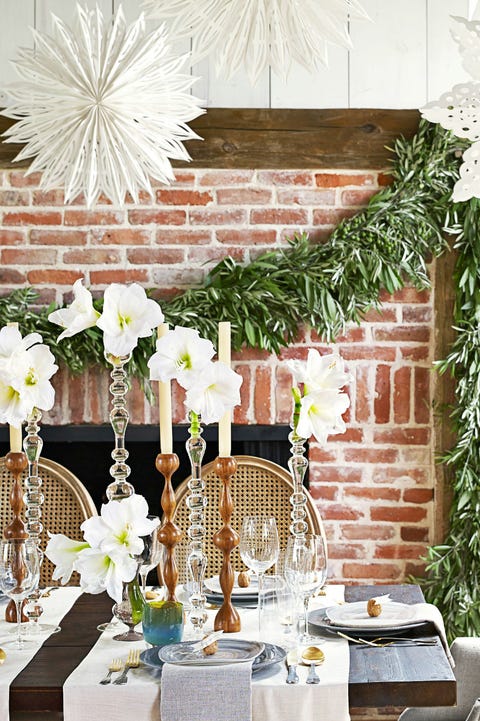 Decorate using objects of different height. Start by hanging oversized snowflakes, and building up the table with tall candlesticks. For the mantel, hang a garland made with olive branches.
7. Honeycomb Paper Ornaments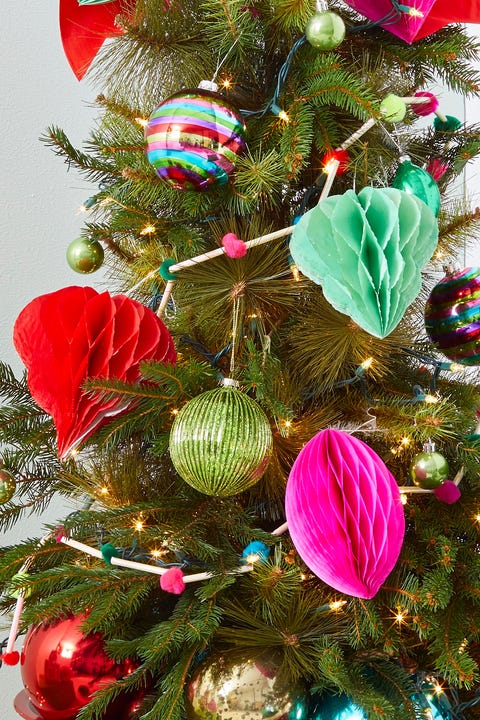 Draw half a bell or oval onto folded paper balls (we used ones 8" in diameter) in mixed colours and carefully cut out the shape. Then unfold the paper ball and use double-stick tape to attach both ends.
8. Swap Out Your Tablecloth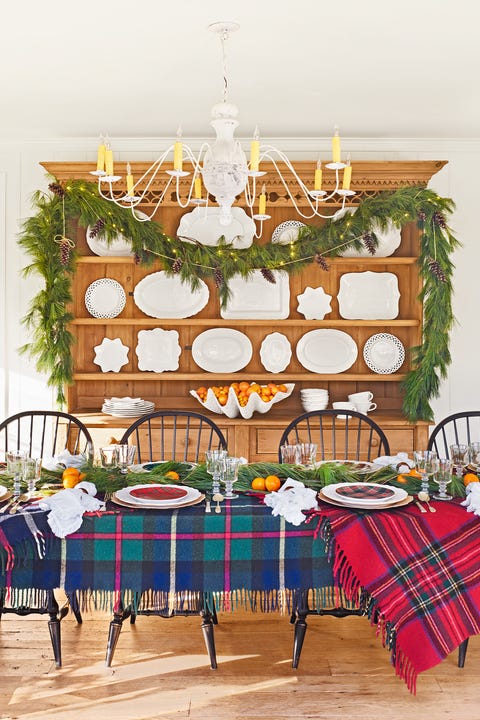 Drape a plaid blanket over a white table to add colour and creativity with basically zero work involved.
9. Cookie Cutter Ornaments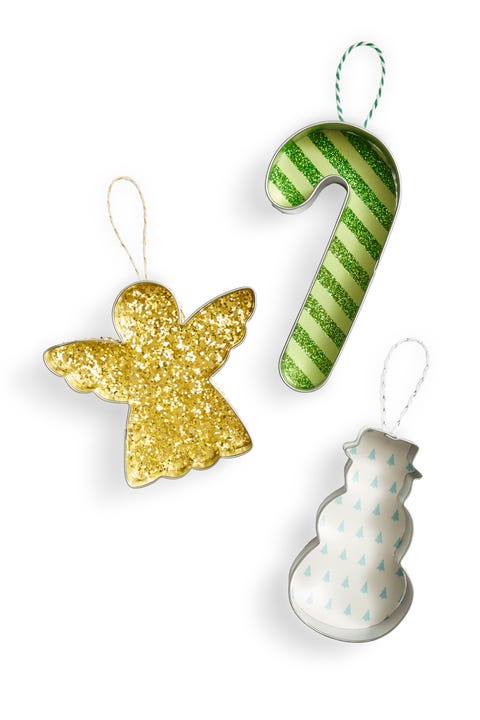 Gather up some Christmas-themed ornaments to make a few DIY'd ornaments. Trace the cookie cutters onto patterned paper and cut them out. Place a small line of glue around the edge of the cookie cutter and place the cut paper on top, lining up all of the edges and let it dry. Attach a small loop of cord to the back of the ornament, let dry, and hang.
10. Stock The Bar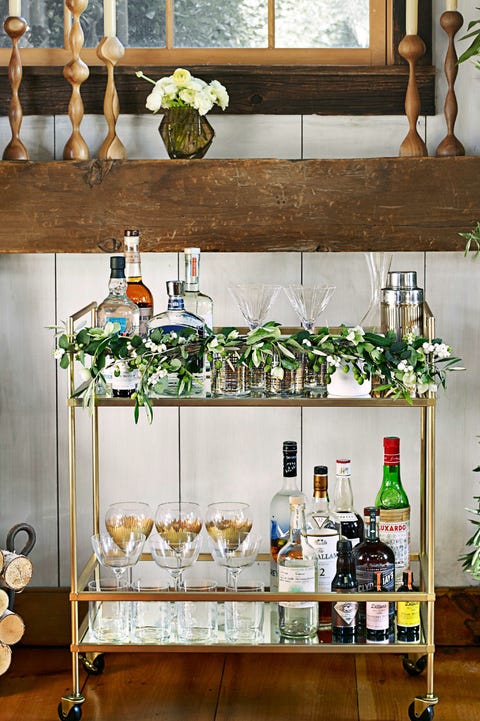 Bar charts are the one design element that still needs to be functional, so make sure all of your merry-making essentials fit. Accessorize with greenery and glassware.
11. Winter Scene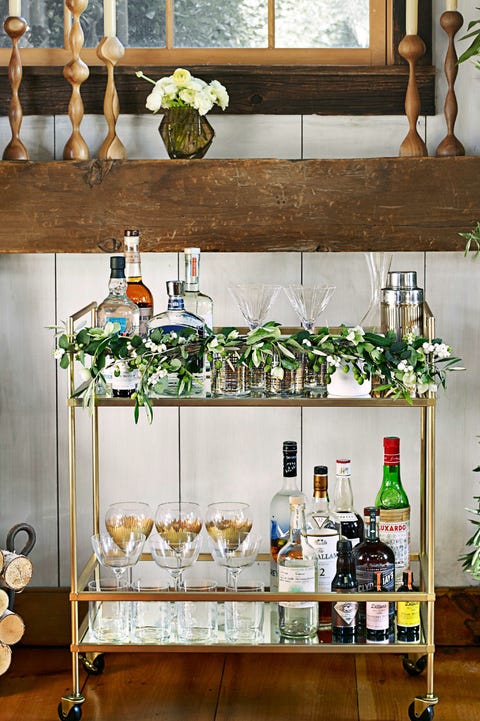 Transform a round gift box into a snowy sled scene. Spray paint the inside of the box white and let it dry. Trace the round box onto a sheet of styrofoam and cut out using the styrofoam cutter. Adhere to the inside of the box using craft glue. Cut out 2 to 3 smaller curved slope shapes out of the styrofoam sheets and layer inside the box, adhering with craft glue. Spray the inside of the box with fake snow spray and let dry. Stick bottlebrush trees and figurines into the styrofoam, using craft glue if needed. To finish, sprinkle with fake snow powder.
12. Incorporate Your Artwork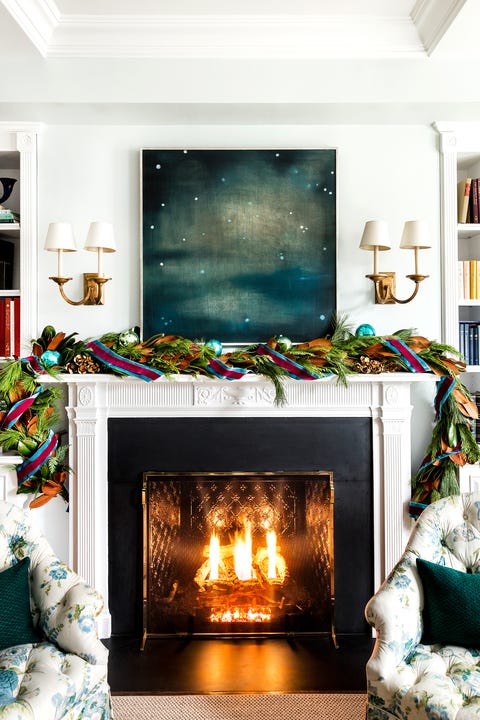 Decorate your mantle with greenery, then add ribbons and ornaments for a pop of colour. Match your garland accessories to wall art and decor throughout the space rather than using the classic Christmas colours for an understated yet festive look.
13. Gift Bow Wreath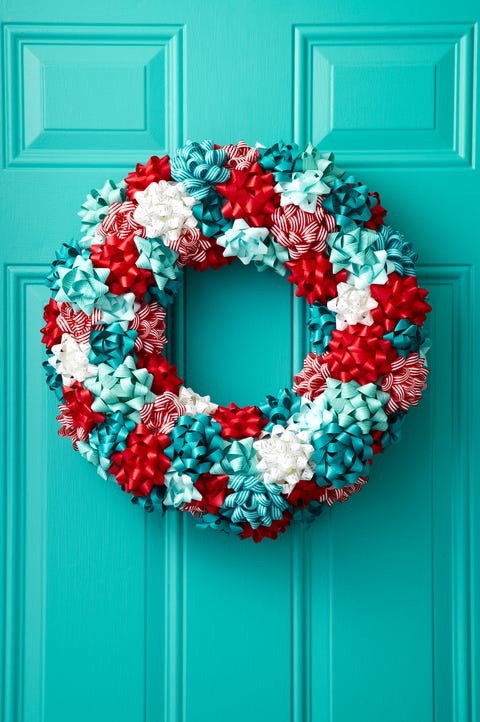 To turn store-bought bows into a jolly wreath, attach a loop of floral wire (for hanging) around a 16" Styrofoam wreath form. Then, hot glue gift bows to the front and sides of the form. Keep it festive with a classic red-and-white combo or mix in powder blue for a wintry look.
14. Try Purple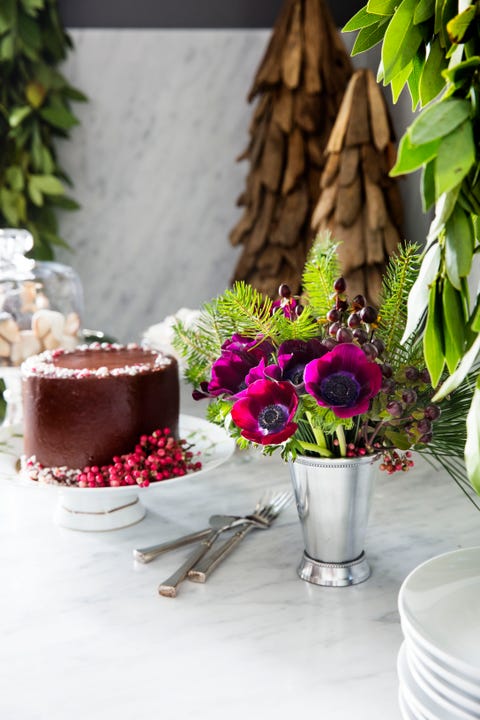 Deep purple flowers still feel festive, but provide an alternative to red when you're just over it. Put them in a silver julep cup for extra glam.
15. Personalized Mini Christmas Tree
A humble tag-sale table painted leafy green becomes a festive staging area for your home. Wrap a crock with ribbon to fashion a stand for an adorable tree personalized with family photos. Concoct miniature frames using circles of stiff felt and ribbon.
16. Fabric Wreath and String Snowballs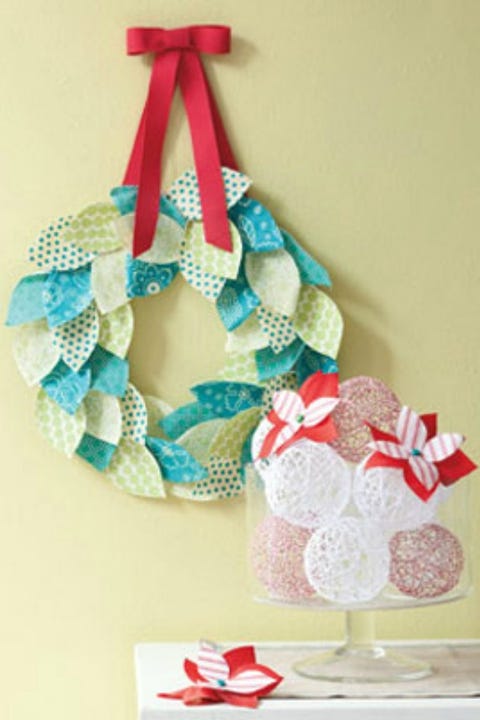 These DIY whimsical decorations instantly add holiday cheer to your home. Hang the colourful wreath on a wall, and bring a side table to life by placing a bowl of these snowballs atop it.
17. Festive Napkin Ring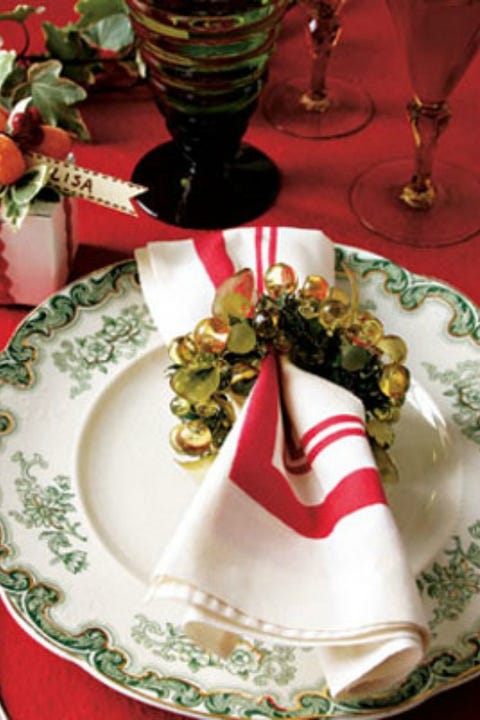 Make your holiday table complete by adding a touch of sparkle at each place setting.
18. Put Your Mugs On Display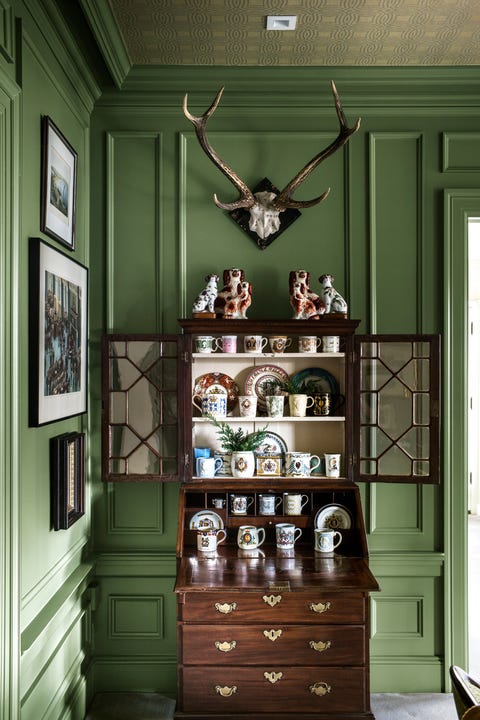 If you collect holiday mugs, make sure they're on full display during the festive season.
19. Try a Christmas Kitchen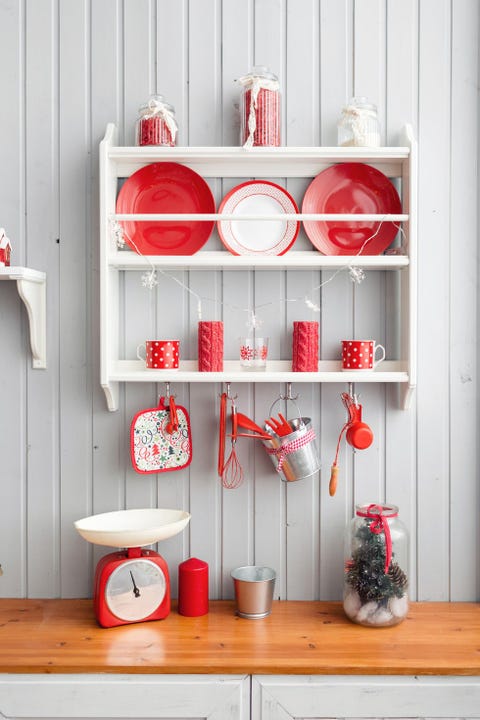 Swap out you're fine china for a festive assortment of dishware, so even a late-night snack brings out the holiday cheer.
20. White Christmas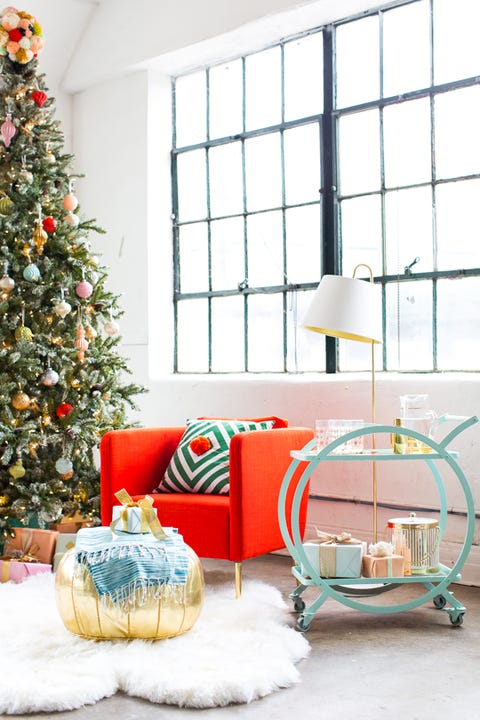 Fake a fresh snowfall by placing a sheepskin rug beneath your tree.