With the advent of digital technology, capturing information in print these days has become easier more than ever through digital printing. The conventional or traditional methods of cloth printing and offset printing which was a popular choice of large businesses years ago have now been surpassed by digital printing. This is because of the economically viable way of digital printing in producing small runs. This is now the most favoured type of printing by both small and large corporations for their marketing materials. Highlighted below are some of the best brought about by digital printing.
5. XIS Digital Flatbed Slipper Printing Machine
The Digital Flatbed Slipper Printing machine is popular in the market at present. This printer delivers the highest quality print output to meet the exact expectations of clients in design, media, and advertising and other graphic arts sectors. The new generation technologies of the printer offer accurate high-resolution colour and monochrome printing on a wide range of media, while the speed will enable the user to complete short high-quality production projects.
1. Smart function of printing white base and colour images together.
2. CMYK + White + Varnish (adjustable settings).
3. Enriched with Epson TX800 Technology (180*8 nozzle-3.5 pl)
4. Along with faster print speed to increase efficiency.
5.Changeable ink channels for more flexible work and longer life
  a span of print ahead.
6. Covered UV LED to protect eyes, with a life span of up to 50,000
   hours.
7. Wireless wi-fi connectivity for convenient operations.
8. Automatic head cleaning functions prevents print head clogging.
9. Special spot UV option can be used in wedding photography, 10. Mobile Cover printing, Corporate gifts and many other
     industries.
11. Flatbed Printer can print on Leather, Plastic, Wood, Glass, Metal,
    Ceramic Tiles, PVC, Acrylic etc.
Technical Specifications of XIS 2335 -s UV Printers:
Print Size: 60cm*90cm
Print Head: Epson micro piezo(180*8)
Head Quality: 2pc
Print Mode: CMYK+W/CMYK+CMYK
Print Resolution: 360dpi*720dpi*1440dpi
Maximum Thickness: 12cm
Power Consumption: 450 W
Printer Size: 150*130*70cm (L*W*H)
Print Software: Photo Print
Net Weight: 150kg
4. A3 Digital Slipper Printing Machine
There are some reasons that why A3 Digital slipper is the best option for you:
1. Low cost and competitive price.
2. The high resolution adds up to 1440dpi.
3. Use for Korea software and America ink to reaches the best colour effect.
4. All spare parts are original from England, more stable.
5. High speed.it just takes you 5 minutes for a white T-shirt, about 7~8 minutes for a colourful T-shirt.
6. User's guide book attached 4000 beautiful pictures to print.
7. Print directly with the high-resolution colour by American ink.
8. Suitable for all kind of cotton stuff.
9. Easy operational.
Technical Specifications Garros A3 t-shirt printing machine:
Printer Model: Garros A3 t-shirt printing machine
Max Printing size: 300*420mm
No. of print heads: Micro Piezo printhead
Material's Height: 5CM max.
Print resolution: 1440dpi
Ink type: America Textile ink, UV ink
Ink channel: 5 colour (CMYK, White)
Moving method: Printhead moving
Printing interface: USB 2.0 high-speed interface & 100 Base-T Ethernet interface
Printing direction: Smart Bi-directional Printing Mode
Printing speed: 4 passes 120 seconds/A3 size
                                6 pass 160 seconds/A3 size
                                8 pass 200 seconds/A3 size
                               12 pass 240 seconds/A3 size
                               16 pass 280 seconds/A3 size
Languages: English, Chinese.
Applicable industry: All kinds of colour T-shirt, bottle, phone case, etc.
Lamp type: UV Lamp (saving energy and environmentally friendly)
Printing method: Drop on Demand (non-contact micro piezoelectric ink-jet printing technology; micro piezoelectric printing technology; VSDT; intelligent nozzle clogging sensor system)
Power consumption: 136 W/H
Ink consumption: 10 ML/SQM
Auto adjustment function: Nozzle automatic detection; print head automatic aligning
Height adjustment:  Auto Sensor
Normal working environment: Temperature 10-35; Celsius Humidity 20-80RH
Power/ Voltage: About 75W / 110V/220V 50-60HZ
Operational software: Compatible
Machine configuration: USB line; driving software; power line; instruction book; washing and ink-joiner tool
Operation system: Windows 2000 / XP / WIN7/ Vista, etc.
Media feeding system: Auto or Manual
Gross weight: 60KG
3. Brother GTX
Print like you never have before with the next generation in direct to garment printers, GTX. With an accelerated print speed, seamless design, lower maintenance, and a robust amount of amazing features, GTX takes conventional DTG printing to the next level.
At 4.5' by 4.25,' the GTX is a little boxier and immediately conveys an industrial look with its predominately metal exterior. The GTX is a table or benchtop unit, but with a custom stand available. This stand is recommended, as it allows users to take advantage of the open bottom design of the printer for humidification, which is often necessary for consistent operation.
The Benefits of DTG
With Brother's DTG printer, the GTX, you get all of the traditional benefits of our direct to garment printers plus an expanded offering of additional features and benefits you'll only find with the GTX.
Step 1 – Pretreat and Cure the Garment
When printing with white ink, apply the proper amount of pretreating depending on the garment preferably with a Brother-recommended pre-treatment machine for optimal results. Then simply cure the pretreat solution with either a heat press or dryer to ensure a flat printing surface.
Step 2 - Prepare the Digital Art
Load your artwork into our new graphics software Graphics Lab software. Graphics Lab allows you to position the image, add text, distress layers and make other adjustments to your image before sending the file to print using the GTX print driver. Optionally, you can also print directly from your own graphics software.
Step 3 – Printing on the Garment
Dress the platen in your desired garment or substrate and press print.
Step 4 – Cure the Ink on the Garment
Place the printed garment on to the heat press once again or in a forced air dryer to cure the ink. This will ensure the ink is fully cured to the garment and will have the desired washability.
2. Col-Desi (DTG Digital) M2
ColDesi's M2 direct to garment printer has several unique features designed to make you more productive, and more profitable including an intelligent RIP software, white ink printing management system and more. BUT, the most important time saver may just be the ability to print 2 shirts with 2 different designs at the same time.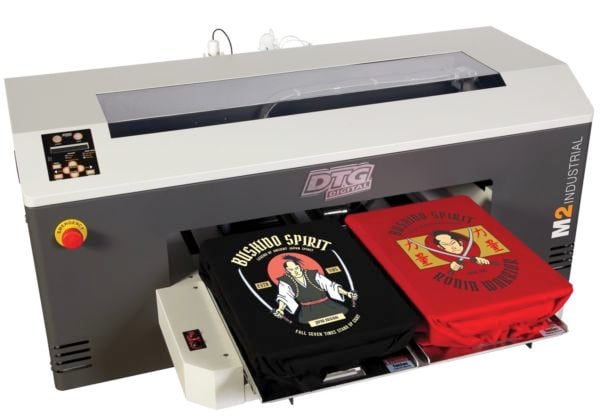 Most DTG printers on the market today, like the ones from Anajet or Brother or Epson, can print fairly quickly. Several even have RIP software applications that have some unique tools. But none has the ability of the M2, to print 2 jobs at the same time. The closest you can come to this money-making feature is the DTG Viper, which with its multiple platen system allows you to print 2 shirts in a ROW. That's different than the M2, which prints laterally across both shirts at the same time. Not only is this technique faster, but it produces an excellent image as well!
Being the only dual platen printer of this group — meaning there are two platens to load t-shirts instead of just one — the natural thought would be that it has a much larger footprint. At about 4' x 3,' it occupies a similar space as the Brother, but with a much larger shadow as it's nearly a complete rectangle.
A tabletop/benchtop unit as well, the M2 will require proper arrangements. Quieter than the Brother GTX but not to the level of the Epson F2100, this unit can be an option for users that need an extra-large imaging area.
1. Kornit Breeze
The portable and affordable Kornit Breeze is designed specifically for small to mid-sized digital t-shirt printing businesses, online and retail shops. Whether you're just entering the digital garment printing market, or looking to expand, the Breeze direct-to-garment printer is the best option for the textile printing. As the introductory machine from Kornit, the Breeze is the smallest in their line-up but one of the largest in this group. The 4' x 5' framework is the most modern-looking by far. As the only machine in the group with an integrated pre-treatment system, the overall footprint may be smaller. Kornit's inks are typically cured with a gas dryer, which can serve as the base table for this printer.
The Kornit Breeze is compact, robust and engineered to combine high-end technology and performance. Engineered specifically for small to mid-sized commercial digital t-shirt printing businesses, with affordable printing. The compactly designed portable Kornit Breeze is designed with an integrated automatic pre-treatment, degassing and maintenance system. It provides the ideal Direct to Garment solution to new or expanding businesses entering the digital t-shirt and garment print market.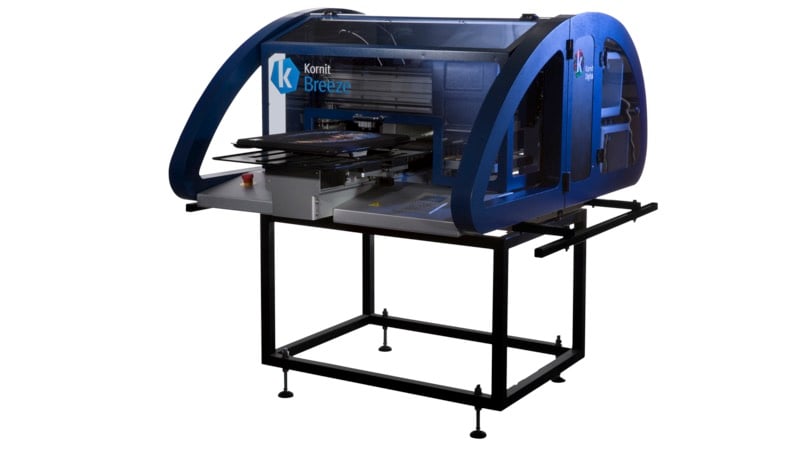 Specifications:
Print Heads: 6 heads
Max Resolution up to 1,200 dpi
Ink Channels4: Colours CMYK + White
Ink Recirculation: SYSTEMN/A
Ink Containers: 15o ml / 5 oz ink containers
Max Production Output: Light garments: 42 / Dark garments: 32
Printing Area Up to 14 x 18 in/ 35 x 45 cm
Printable Substrates: Cotton, Polyester, Cotton-Polyester Blends, Lycra, Viscose, Silk, Leather, Denim, Linen, Wool and more
Humidity System: Optional
Backup Battery: SYSTEMN/A
Max Weight: Approx. 210 kg / 462 lb
Power Requirement: POWER REQUIREMENTS: 230/100 VAC, 50/60 Hz, 1 ph, W+N+PE
Compressed and Pressure: Integrated self-pressurized system
Operating System: Customer computer supporting Windows 7 or Windows 10
Operating Conditionals: 18°C-30°C / 64.4°F-86°F, Humidity: 45%-95%
Dimensions: 45 x 59 x 27.5 in / 114 x 150 x 70 cm